IMMERSIVE INSIDERS
Become a Professional
AR/VR Developer
Let us introduce our all-in-one platform for learning to create for Virtual-, Augmented Reality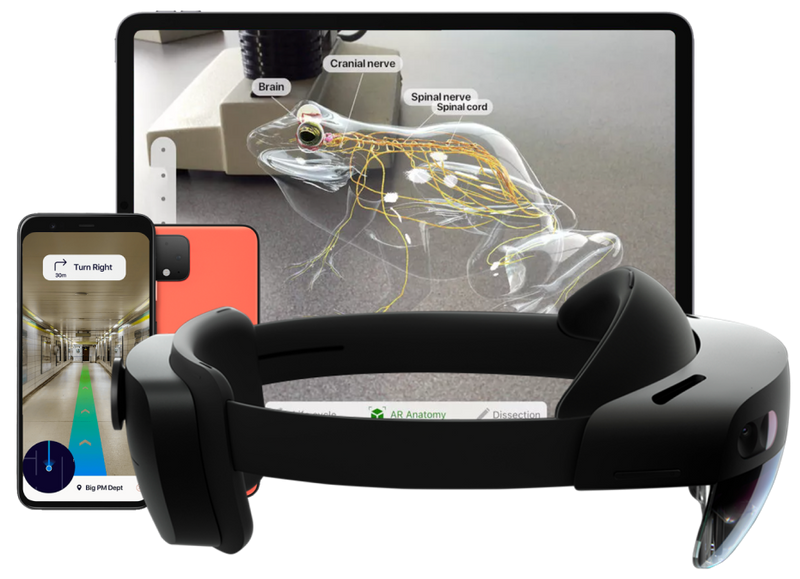 Learn how to turn your creative ideas into reality
From the very basics of code and design, the roots of Virtual Reality, and a vibrant network of passionate tech-savvy people: We've got you covered. Learn how to turn your creative ideas into reality with no prior coding experience required.
Create powerful AR/VR applications
In these courses, you will learn how to create top-notch immersive experiences and develop high-level AR, VR and MR content. The platform is built for developers, UI/UX designers, sound designers, and people who want to get into or grow in this new upcoming industry.
Let's shape our future with XR
Learn from industry experts
You can be confident that the skills we teach will prepare you for the real world. Your mentors will be industry professionals with years of hands-on experience in Design, Development, Business, and more.
We value quality over quantity
Time is precious and we don't want to waste yours. This is why we won't blow up our courses with unnecessary, repetitive, filler lectures. Every minute is well crafted and will make the most of your time.
Your gateway into the XR industry
Our network is your network. Whether you are looking for like minded people or your future dream job, meeting the right people is absolutely crucial. As part of our platform we will help you have a voice in the XR field and meet the people you need to succeed.
Out of all the courses out there, Dinesh's course is focused more on teaching the concepts than on making the game itself. Within a month, I've learned C# and many other concepts that are applied in creating a full game cycle. With those concepts, I built my first AR game which is now available on the play store.
immersive insiders explained
With immersive insiders, we created
a platform that teaches AR and VR development, with the goal of functioning as a social hub for creators.
It doesn't matter if you are an aspiring dev or a seasoned veteran –

AR/VR tech is always changing and the market is rapidly growing, and our platform reflects that change by always adapting and keeping up-to-date.

Our goal is to drive future technologies like AR/VR that shape our future by offering affordable courses by experienced industry professionals.

With immersive insiders you become a member of industry professionals who help you to grow in the rapidly growing XR industry
Individual Courses
SINGLE PURCHASE
See course details for exact prices
Lifetime access

All handmade 3D assets included

Access to Resource Library

Access to project repository
immersive insiders
MEMBERSHIP
Access to all courses

Access to all project repositories

Access to private Discord channel

Access to Resource Library

Cancel anytime
All membership benefits plus:

Intense 1 on 1 coaching

Custom project support

High priority email support

Cancel anytime
Take your career to the next level
immersive insiders is a membership platform where you keep learning and evolving forever! The industry is changing and adapting at a rapid speed - and so should you.
Community support
Meet like-minded people in our Discord community consisting of 500+ people from all over the world.
Certificates i
ncluded
Boost your professional credibility with the certificates you receive after graduating from our courses.
Up-to-date content
To ensure you're having a great learning experience, we are keeping our courses fresh and up-to-date.
Beginner-friendly
You don't need to bring prior coding experience to get started. We teach you everything you need to know.
What our learners say
Real feedback from real students.
Our #1 mission with this platform is to
help you achieve your goals.


immersive insiders is an amazing platform for XR enthusiasts. Dinesh has explained all the important concepts in an easy to understand manner and in a short span of time, it has thereby reduced the overall course duration. It's highly recommended for anyone who wants to start his/her XR journey!
G. Bhanuteja
I've learned more about AR with Dinesh than on any other learning platform out there. He goes through every step of the process with details, covering all sorts of trial & errors. I really enjoy his enthusiasm and dedication. One of the best workshops at an affordable price!
Juan Carlos Ferrá
Guaranteed Security using one of the most advanced encrypted systems on the market.
The information in this page is being processed and encrypted securely using industry-leading encryption and fraud prevention tools.
Basically anyone who is interested in creating applications and experiences using immersive technologies (AR, VR, MR).
What exactly do I get for my money?
The membership is structured around 3 main components:

Courses: The most up to date cutting edge courses crafted with love and passion just for you. Courses will stay up to date and the course library will grow over time. Naturally, you'll have full access to the project and the GitHub repositories.

Monthly 1 hour Q&A group sessions with Dinesh: We will help you get into and grow in the XR industry by giving you insider tips, answering your questions, and preparing workshops for you.

Full insider interviews: We'll interview the best of the best within the XR industry. You will have all the full* insights from Business, Design, Development, and more!‍

*interviews will partly be available on my YouTube channel as well.
What prerequisite do I need?
You'll need a genuine interest in immersive technologies. You will use your own hardware but no worries, most of the modern phones are AR capable already. For VR development you'll need a VR headset. Otherwise, there are no prerequisites besides a burning passion for awesomeness.
What programming language will be used?
For now, we will work with Unity and C#.I'm planning to add more technologies and frameworksand even some low-code tools that help you get started ASAP.
Why a monthly subscription model?
Simply said: It's in my and in your interest. This model helps me to have a reliable source of income which helps you to have fresh up to date content every month. (Which is a big challenge for the whole XR field).

Imagine paying 10.000€+ for a Bootcamp just to find out that the content is outdated after 2 months because immersive tech evolves so damn fast. I know, sounds harsh, but this is the real reality we are living in.
Are there any hidden costs?
What currency and payment is accepted?
Pay with PayPal or credit card. No restrictions here.
Yeah, no problem. If you don't like it you can cancel anytime.
Getting started with:
VR Development
Virtual Reality is on the rise! Be part of it by learning to create amazing VR apps and games for all the major VR devices on the market! You also get full access to our hand-made 3D assets, environments, sounds, and more.
JOIN US NOW!
immersive insiders membership
So, shall we show you how to get into immersive development in next
to nothing? Become an insider and take action to shape your own reality!
Created with